Whenever I start an SEO analysis project, I look at the client's analytics and the metrics look healthy at first. You have probably experienced this as well, but when I zoom out on their timeline and look at the big picture, the data shows no significant traffic or conversion growth over the years, which indicates an issue with their marketing efforts. On closer inspection on key pages, I see their visitors are not progressing on their customer journeys—instead, they are backtracking, routing themselves to a different page, or simply abandoning the website.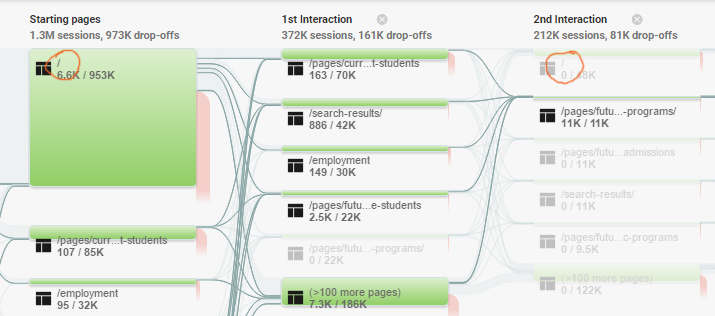 There are several ways to identify traffic jams and resolve them. A simple solution is to change the content or redirect the visitor by removing the problematic page, but this is like weeding your garden with a bulldozer when all you need is a trowel. But what if the page holds a critical form to collect leads or shows the information required for legal compliance? With UX testing, you can identify issues at various levels of granularity, prioritize the severity of each page, and understand why the users are experiencing these obstacles. With the test results, you and your team can take a surgical approach to website optimization with minimal risk of losing potential customers.
What Success Looks Like
A visitor may enter your website in multiple ways—through your homepage, search engine results page, an email link, social media link, and more. With this in mind, every single page on your website must perform at full capacity to connect your visitors with a customer journey or risk losing them to a competitor site. A streamlined website will reflect positive metrics with page engagement, clean traffic flows with minimal backtracking and higher conversion rates on your CTAs.
In short, good UX improves traffic flow for your customer journeys. With these positive engagements in your website, your likelihood to convert customers increases proportionally. Your conversions can be something as simple as playing a video introducing your services, or as critical as a purchase.
After conducting many types of tests, I find most issues are resolved through simple content changes that allow the visitors to re-orient themselves on the website. They function like interstate signs, where drivers may not know exactly where they are, but they can guess their general location on the map and make an educated guess which direction to drive next.
You may opt for changes in the information architecture, but this is more costly in terms of SEO and server configuration, like making structural changes to your highway which forces drivers to slow down and travel on a single lane. This takes more resources, but in the end, it provides a more direct route to their destination. Consider this option carefully by weighing the importance of the destination and long-term application against the inconvenience your visitors may experience.
Get Support for UX Testing
If you're new to UX testing or need support from the leadership, I typically present three benefits: better ROI, evidence-based workflow (instead of guessing), and improved reputation. After resolving fundamental UX issues, you and your team can re-focus on your marketing energies towards generating traffic to the website and following up on qualified leads.
Increase Customer Conversions
Whenever visitors encounter obstacles on your website, they will give two more attempts with your menu or search tool to reach a specific page, then fall back to a search engine (Google or Bing). After the third attempt, they will abandon your website (unless your service/product is very compelling) and probably visit your competition.
After running dozens of usability tests on websites and prototypes, I often see participants willing to explore further if feel they're on the right track. Most obstacles are the result of confusing menu labels, cluttered content, or an obtuse design with competing calls to action. The trick is to identify where exactly they occur on the page and remediate with what the visitors are expecting. Clearing those obstacles (even if they're not perfect), increases visitor's engagement with your website and the likelihood they will convert into customers—ultimately, increasing your ROI.
Remove Creative Doubts
Creative decisions such as headlines, photography, or interface design rely on your creative team's experience to meet your customer's needs. However, there are situations when your creative team will come to a disagreement and make a case where a headline copy will be more effective than photography and vice-versa. If you're unlucky, a senior sales VP may chime in with the client's idea masked as their expert opinion. By using an evidence-based approach, you can measure each hypothetical scenario and objectively come to a decision. At the very least, your team will have the confidence to refine a single creative direction.
Improve Brand Perception
With a streamlined customer journey, and a consistent experience across your digital platforms including social media, emails, ad campaigns, and landing pages, your customers will perceive your brand more seriously. It signals to them that you have invested time and resources in UX and won't disappear overnight. And by continuously optimizing the navigation, layout, and artwork with seasonal images, your customers feel you're listening to their feedback and being proactive with digital trends. It shows that your brand is alive and growing with the visual language.
Setting Up the Tests
Although there are many types of usability tests, here are a couple of tips to consider when recruiting participants and setting up UX tests:
Identify your target audience – find a group of people with similar traits, such as demographics, motivations, technology behaviors, or a combination of all three. In addition, know how many participants to recruit, and make sure to include a few backup participants in case of no-shows or profile mismatch. Sometimes my clients ask me to mix students with faculty members to save on budget and unfortunately, I have to explain to them these two groups have different expectations and institutional knowledge of how menus are organized. A better option is to test students and faculty members as two different groups and then remediate the solutions by either splitting the content on the page or building separate pages in dedicated areas for the audience type (i.e., the intranet for faculty members).
Identify the critical page(s) to test – some pages are more valuable than others, such as the application or the checkout page. Consult with your IT or webmaster about which web templates are available and where are they implemented on the website. Ideally, you'd want to test one of each template (transactional, directional, etc.) within the same customer journey (program admissions) relevant to the target audience you're testing (prospective students).
Remind yourself and the participant that you're testing the website and not them – usability testing is about identifying gaps or obstacles with your website, not how well the participant matches your audience profile. Phrase your tasks or surveys with a singular direction with clear phrasing. Common mistakes I see are convoluted task scenarios or multiple tasks combined as a single task.
Remember the administrative work – these include incentives to recruit participants, release forms if you're recording their faces or screen actions, welcome/introduction scripts, room reservations rooms if you are inviting observers/coders, and have your technology tested beforehand. Practice the routine with a colleague and have them complete your test at least once. These steps seem obvious but they add up and they can sometimes be a challenge to execute consistently as to not influence the participant's behavior.
Data Collection – Quantitative vs. Qualitative
You can collect several types of data from your participants depending on what questions you want to be answered. Some tests answer the question of how many/much (quantitative), while others will provide open-ended answers (qualitative), such as why or where an issue occurs.
A large website may have multiple bottlenecks which may be unrealistic for your team to address them all, but you can prioritize them by:
How important a certain page is for your visitors based on page views and other combined metrics
How important a certain page is for your marketing goals (is this the only route for the visitors to convert?)
Why a page may be critical for your stakeholders (are they legally required to display this content?)
I typically start my research with quantitative data to identify and prioritize the major issues. Then, I conduct qualitative research to understand why those issues occur. Because qualitative research is more time-consuming requiring interpretation of the participant's responses, such as their reading comprehension level or their expectations on the user interface, I can only focus on a limited number of issues and cross apply the solutions on other pages or templates. Depending on your situation and scope, starting with a qualitative study may be more beneficial.
Another set of dimensions to consider are the participant's attitudes and behaviors. To paraphrase from Nielsen Norman's article on UX tests, attitudes are the participant's belief of how a system should work ("what people say"), whereas behaviors are participant's actions within a system ("what people do"). What they say and what they do don't always match and validating these two sets of data helps you narrow down the number of critical issues.
At a bare minimum, you'll probably want to run a qualitative and quantitative test of either behavioral or attitudinal type. If your budget allows, consider running a test from each quadrant at least once, with the initial test as the benchmark to compare against future website optimizations.
In an upcoming post, I'll discuss the different methods for UX testing.
Takeaways
UX Testing can use a lot of resources, especially time. The optimizations you make on the website won't make everyone happy, especially when you consider how the visual vocabulary evolves over time. If you're implementing UX correctly, the number of issues should lower after each iteration. Even though there are diminishing returns, the more you iterate your UX optimizations the more it signals to your customers that you care about your brand and their experiences.
For questions, comments, or suggestions, find me on Twitter @muzel_dh.